myxcenterxstage's
SIDE CHARACTERS:
(aka NPCs & minor characters that appear/are mentioned in Priscilla's story)
♕ Upstairs
♔ Priscilla's Family
TAG
THEKIMBLETONUNCLE
LOCATION
 LONDON
OCCUPATION
 PRISCILLA'S UNCLE, BUSINESSMAN, FORMER EITC OFFICIAL, BARONET
FACECLAIM
 BEN DANIELS(MR. WESTON FROM BBC THE PARADISE) / ALAN RICKMAN (COLONEL BRANDON FROM SENSE & SENSIBILITY)
"UNCLE" SIR THOMAS KIMBLETON, BT.
Thomas grew up in an affluent family, born & raised in London, who's strict father, Phillip Kimbleton, was a Baronet Knight, inherited down the family by his great-grandfather. His mother, Cecelia, was very nurturing, and thanks to her, derived his compassionate, caring nature. He runs and owns his own private merchandizing company – Kimbleton Trades.
Upon his return to England from retiring from his position at the EITC, Thomas found his sister, Josephine, greeting him alone at his doorstep with his 8 year old niece, Priscilla. Josephine pleaded with Thomas to care for the child and change the child's surname back to Kimbleton while some "undisclosed complicated arrangements" were being settled back in Shropshire. It was the last he saw of his sister. 12 years later of guardianship and with the help of a nanny named Adele, his housekeeper Sylvia, and his good friend and butler "Jeeves" Nelson; he actually successfully raised his niece Priscilla from the annoyingly rambunctious curious little girl… into a proper young lady… who was still rambunctious and annoying with curious fascination for birds and acting. Learn More 
TAG
THEOTHERKIMBLETONUNCLE
LOCATION
 INTERNATIONAL
OCCUPATION
 EXPLORER & ARCHEOLOGIST, PRISCILLA'S OTHER UNCLE, THOMAS' BROTHER
FACECLAIM
 PATRICK MALAHIDE (LORD WILLINGDON FROM INDIAN SUMMERS)
CHARLES H. KIMBLETON
Priscilla's 'Other' Uncle, & Uncle Thomas' brother – a nutty character (with a bit of a stammer but a walking nature encyclopedia), Charles Kimbleton has traveled the world excavating ruins and sailing to uninhabited islands, traversing deserts, and logged sightings of tropical birds and wildlife in thick jungles…
Over a decade ago, Charles disappeared after an expedition went awry. They say he was lost to a band of cannibal pygmies… but by the slimmest thread he managed to outwit survival himself!
TAG
GRANDMAMA
LOCATION
 SOUTHERN FRANCE
OCCUPATION
 BARONETESS, SOCIALITE, PRISCILLA'S GRANDMOTHER, THOMAS' MOTHER
FACECLAIM
 JUDI DENCH (LADY BRACKNELL FROM THE IMPORTANCE OF BEING ERNEST)
"GRANDMAMA", LADY CECELIA WRIGHT-KIMBLETON, BTSS
Priscilla's grandmother (on her mother's side) and Uncle Thomas's mother, Baronetess Cecelia Kimbleton is the epitome of elegance, carrying an air of regality and condifence.
Lady Cecelia currently lives in Southern France near the riviera with her oldest son's family after her doctor told her she couldn't live in the smog of London anymore. When Thomas & Priscilla visit, she dotes on Priscilla and equally insists being shared every detail of Priscilla's growth and progress as debutante. She's also constantly warning Priscilla to keep away from scandalous behavior like the plague.
TAG
THESECONDCOUSIN
LOCATION
 LONDON, ENGLAND
OCCUPATION
 SOCIALITE, PRISCILLA'S 2ND COUSIN
FACECLAIM
 MATTHEW MACFADYEN (ARTHUR CLENNAM FROM LITTLE DORRIT)
EMMETT VICTOR KIMBLETON
Priscilla's Second cousin (Philip Kimbleton's bother's grandson).
"My dear cousin, Emmett. If I am a raging sea, he is a warm sandy shore. That's how we were since children. He'd support my crazy ideas even when it would get us into trouble. And if there were ever a jolly good fellow, it's Emmett." – Priscilla Kimbleton
Backstory coming soon!
♔ Priscilla's Past Suitors
TAG
EX-FIANCE
LOCATION
 SOME RICH PARTY IN EUROPE
OCCUPATION
 SOCIALITE, BARON'S HEIR, SOURCE OF PRISCILLA'S PAIN
FACECLAIM
 RUPERT FRIEND (PRINCE ALBERT FROM THE YOUNG VICTORIA)
EDMUND CASSIUS STAUNTON
"I had just turned 18 when I met him… once upon a time. It was my second year in High Society after my debutante ceremony – though my first year in Society was well received, I was left with no serious suitor, only a few calling cards. It was at a Spring Herald ball hosted by a Viscount's family in their lovely Estate on the outskirts of London. He approached me after I had finished dancing the waltz, I believe also intercepting my dancing partner to introduce himself and ask me for the next dance. He asked me for the next dances after that, for the rest of the evening, actually!"
– Priscilla Kimbleton
Edmund is the son of a Baron Staunton, was formerly Priscilla's fiance before it disasterously fell apart. Do not let his charming smile fool you, for beneath his pleasant nature lies a cruel and manipulative control freak. Regardless of the Verse or AU, somehow Edmund is always a cause for demise and strife in Priscilla's life.
Read More [Wild West AU]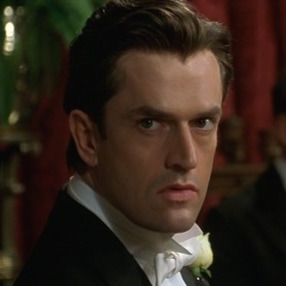 TAG THEOISEAUREBELLE
LOCATION LONDON, ENGLAND
OCCUPATION SOCIALITE, OPERA PATRON
FACECLAIM RUPERT EVERETT (LORD ARTHUR GORING FROM AN IDEAL HUSBAND)
PHILBERT NIGEL WINSTON
Priscilla's ex-beau during her debut years as opera diva.
"Philbert. His name still tastes like the opulence he epitomized – the linger of expensive liquor, charisma like the sparkling jewels he gave me, and lighting up a room brighter the row of lights illuminating my stage at the Royal Opera House. Oh, what a presence we had. – Unfortunately, the reality is that man was a scandal, and it was a love that could never be sustained." – Priscilla Kimbleton
Backstory coming soon!
♔ Priscilla's Friends
TAG
THEMUSICIAN
LOCATION
 LONDON
OCCUPATION
 PRISCILLA'S MUSIC INSTRUCTOR, MUSICIAN, VIOLINIST, PIANIST, WRITER, UN-SOCIALITE, OLD FRIEND OF UNCLE THOMAS KIMBLETON FROM THEIR OXFORD STUDENT DAYS
FACECLAIM
 MICHAEL SHEEN (WILLIAM BOLDWOOD IN FAR FROM THE MADDING CROWD (2015))
MAESTRO MARKUS JOSEPHUS HART
Markus Hart was born and raised in London in an upper class old money family. living a very comfortable life that often included numerous fanciful dinners and soirees. He attended Oxford University where he met Priscilla's uncle, Thomas Kimbleton, and they became close friends. Upon returning to London and the socialite life, so grew his disdain and contempt for high society, so he decided to remove himself and dedicate his life to music, performing on the select occasion simply for self-jest. He continues to keep in contact with his friend Thomas [Kimbleton] and other Oxford acquaintances, and has agreed to instruct Thomas' niece Priscilla in musical arts. On the rare special occasion (or surprise) he participates in Priscilla's at-home plays and performances.
One afternoon when Priscilla was musing about life as an actress, he jested about how simple it was to become an actress simply by connections and a good audition and Priscilla took him seriously, excitedly pleading he sneak her into a Drury Lane theatre to try the stage for herself. Very reluctantly, after weeks of pestering, he eventually agreed to assist her little "act". Read More 
TAG LOVELYLADYBEEKMAN
LOCATION LONDON, ENGLAND OR SURREY, ENGLAND
OCCUPATION SOCIALITE, WIFE OF COUNT BEEKMAN, HOSTESS OF THE GREATEST PARTIES YOU'LL EVER ATTEND
FACECLAIM ANASTASIA GRIFFITH (ELIZABETH HAVERFORD FROM COPPER)
"LADY BEEKMAN", COUNTESS HENRIETTA E. BEEKMAN
A fabulous countess who hosts the greatest parties this side of England. Whether at their lovely abode in London, or her husband's estate in Surrey, England. She is a woman greatly respected by Priscilla and among the few ladies in high society who has treated Priscilla kindly.
TAG NEEDSMORECAVIAR
LOCATION LONDON, ENGLAND
OCCUPATION SOCIALITE, BARON
FACECLAIM ANTHONY ANDREWS (PERCY BLAKENEY FROM SCARLET PIMPERNEL)
BARON RICHARD SIMPSON
A fabulous Baron who always insists Lady Beekman's parties need more caviar. The finest source of comic relief, and poetic quotes.
TAG PROFESSORLITTLEOLDMAN
LOCATION LONDON, ENGLAND
OCCUPATION UNIVSERSITY PROFESSOR
FACECLAIM HOWARD MORRIS (PROF OLLEMAN FROM HIGH ANXIETY)
DR. LEO OLEMAN, PHD
Uncle Thomas, Uncle Charles, & Maestro Markus, & even Priscilla's Professor at some point or another. A brilliant eccentric happy fellow, seemingly ironically dimwitted, yet ever wanting to see his students succeed. And yes, everyone "accidentally" calls him "Professor Little Old Man" or "Grandpapa". He always calls his close students 'my boy' or 'my child', and while surprisingly can have the mouth of a sailor, he has a heart of gold.
♕ Downstairs
♔ Uncle Thomas Kimbleton's Household Staff
TAG THEBUTLER
LOCATION KIMBLETON ESTATE, LONDON, ENGLAND
OCCUPATION UNCLE KIMBLETON'S BUTLER
FACECLAIM GORDON JACKSON (ANGUS HUDSON FROM UPSTAIRS DOWNSTAIRS)
"JEEVES" NELSON PEMBERTON
Nelson (or more commonly called "Jeeves" by Priscilla) is Uncle Kimbleton's faithful butler. He has known Thomas since his youth when he was still courting his wife, Sylvia. Nelson and his wife live in the servant quarters of the Kimbleton Townhouse.
TAG THEHOUSEKEEPER
LOCATION LONDON, ENGLAND
OCCUPATION UNCLE KIMBLETO'S HOUSEKEEPER, NELSON'S WIFE
FACECLAIM JEAN MARSH (ROSE FROM UPSTAIRS DOWNSTAIRS)
SYLVIA H. PEMBERTON
Sylvia is the Housekeeper of Uncle Thomas' abode and "Jeeves" Nelson's wife. She also often times cooks for the Thomas Kimbleton & Priscilla, and is known to be an astounding chef.
♔ Priscilla's Governess
TAG THENANNY
LOCATION LONDON, ENGLAND
OCCUPATION PRISCILLA'S CHILDHOOD NANNY & GOVERNESS
FACECLAIM MAGGIE O'NIELL (AUNT NORRIS FROM MANSFIELD PARK)
MISS LACIE "LADY" ADELE
"Lady" Adele is Priscilla's childhood nanny and governess. She was known to have an iron fist of strictness, and was among the few who could effectly tame Priscilla's wildness as a child and raise a country bumpkin to be the refined young lady to be well received into fashionable society as debutante.
♕ Guest Muses
TAG
GISELLE DIDER
LOCATION
 PARIS, FRANCE
OCCUPATION
 DANCER
FACECLAIM
 JOANNA VANDERHAM (DENISE LOVETT FROM THE PARADISE, KITTY MCVITIE FROM BANISHED)
GISELLE DIDIER
One of my old OCs who makes some guest appearences on my blog.
An aspiring ballerina, a wildflower – Giselle is a hurricane when she sets her mind to a goal. As her name resembles the character 'Giselle' from the ballet of the same name, GiGi's life has been surrounded by tragedy & harsh falls after the highs. But given her very cunning, very observant nature and hopeful attitude, she manages to climb out of them alive.
TAG
ANNIE RANDALL
LOCATION
 MIDWEST, USA
OCCUPATION
 N/A
FACECLAIM
 ABIGAIL BRESLIN (KIT KITTREDGE FROM KIT KITTREDGE: AN AMERICAN GIRL DOLL)
ANNIE RANDALL
[V: WESTERN HORIZONS]
Daughter of Joshua Randall (
@bountyman
) and Priscilla Duncan-Randall, Annie is a spunky young girl who epitomizes the best 
(and worst)
 of when East meeting West. She has two brothers, Benjamin (older) and Charlie (her twin), and a half-brother named Anthony (wayyy older).
TAG
JOHN IRVING
LOCATION
 ARCTIC CIRCLE / TBD
OCCUPATION
 LIEUTENANT ABOARD HMS TERROR
FACECLAIM
 RONAN RAFTERY
LT. JOHN IRVING
[V: SAIL ON]
[EXPERIMENTAL – HIGHLY SELECTIVE] 
John Irving is a character in AMC's The Terror [the Franklin Expedition]. He is a lieutenant on HMS Terror and one of the ship's higher ranking officers.